How to remove the clips applied over gel nails
After filing a thick toenail, a NailLift is installed. The picture below shows "before" and "immediately after" installation.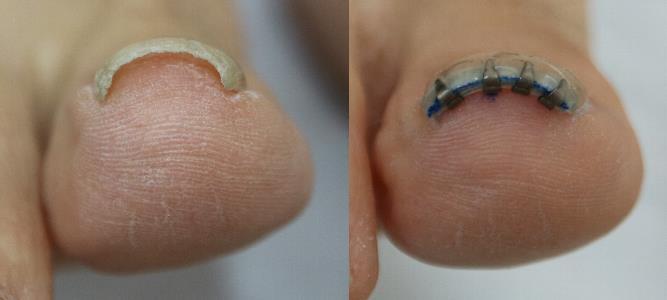 This installation is nicely done and a NailLift makes the ingrown toenail correct immedeiately after installation. A NailLift is meant for retraining the affected toenail to grow to a flatter shape. So, it takes thick toenails at least one week for the desired shape setting.
The picture on the upper right shows a toenail coated with clear gel nails. Gel nails coat the toenail in a protective seal delivering the desires reshaping and yet provide flexibility.
After taking the gel nails off to expose triangular clips by the black grit of the nail file, the clips are expected to be removed smoothly.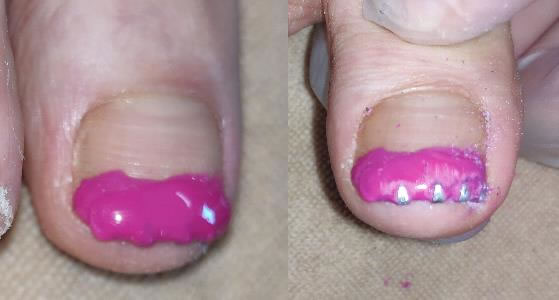 Here's how it works. Let us use easily visible color gel nails to explain.
The upper left picture tells before filing down to expose the clips by the black grit and the upper right one is after.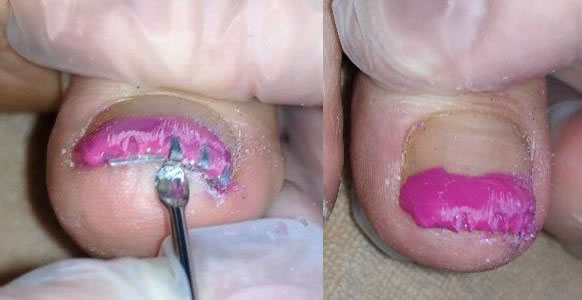 Insert tweezers etc. behind the clips and pull them out as shown in the upper left picture.
Using one hand to hold the affected toe makes this process easier.
A clip remover in the picture comes with our product "nippers", which is ideal for a NailLift removal as well as cleaning the backside of the toenail.
The upper right picture shows the toenail after removing clips. Keep getting rid of the rest of the gel nails by the black grit and use the white grit for a smooth finish at the end. If clear gels is used here, you may not be able to tell just by looking at. A finishing touch is done.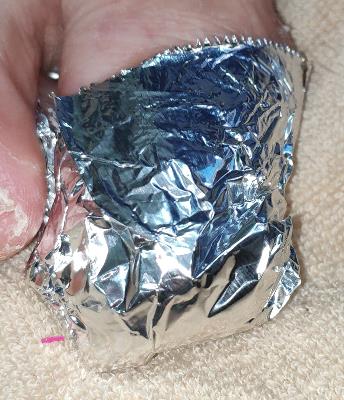 If the gel nails are still on, remove any residue by means of gel nail polish remover, following the procedure below.
1)"Buff the surface of gel nails to remove any residue with a nail file thoroughly. "
2)Cut your cotton pads and multi-layered facial tissues into small squares and soak each of them in the gel nail polish remover.
3)Place them over the toenails by wrapping the foil around the toenails. Leave for 15 minutes.
4)Nail gels should be soft now.  Slide the clips off and use the round edge tip clip remover to gently scrape away the rest of gel nails. 
5)Wash the toenail and toe with soap.